Here is the text of the message I hope to give at Bethany's wedding today – I left out the uncontrollable sniffs and sobs.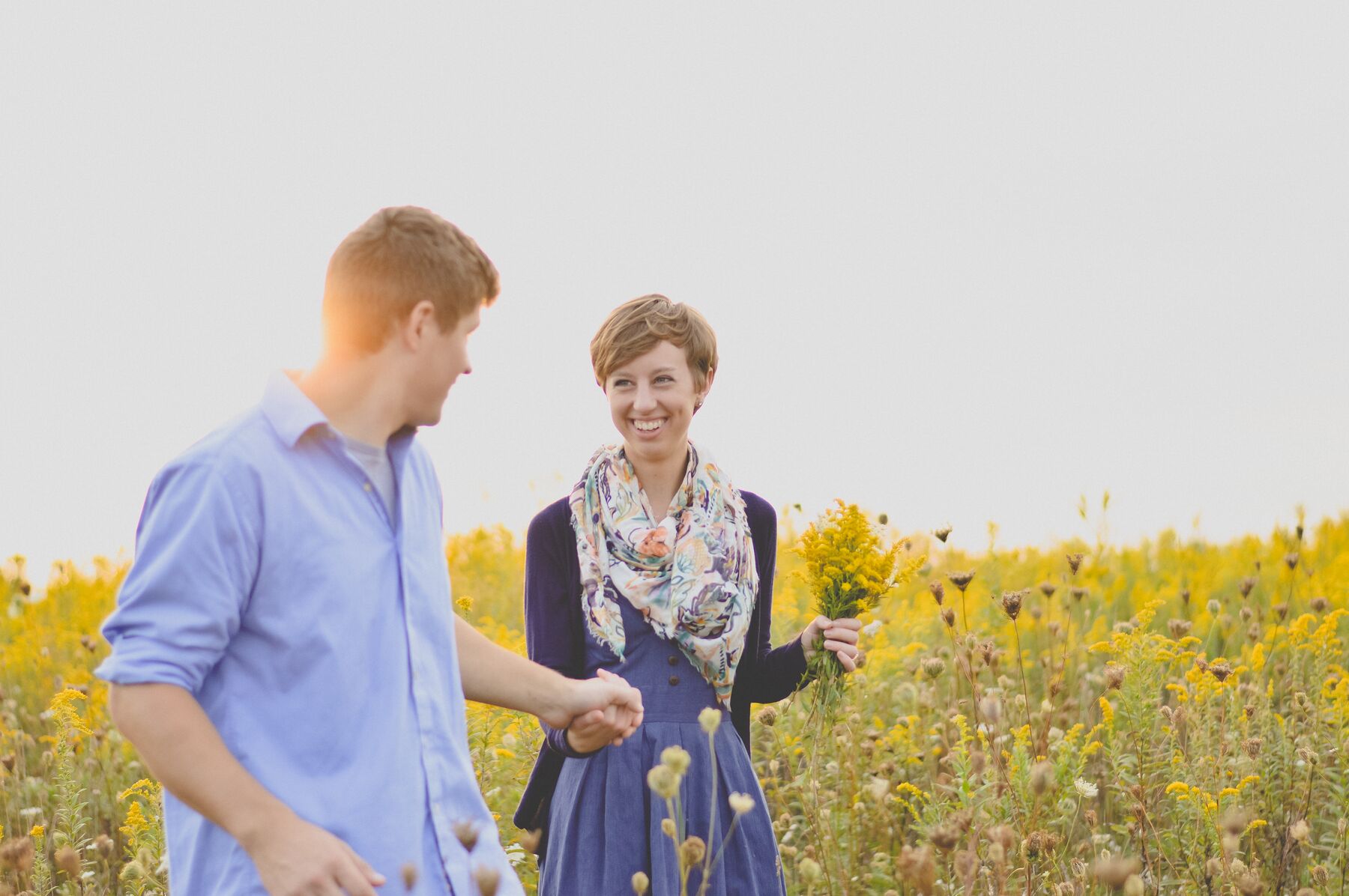 About 25 years ago, I was asked to do something a little weird. The father of 3 boys, the Immanuel Baptist Church in Cedar Rapids asked me to emcee a Father/Daughter banquet. We called our merry little band "the Miller Men" and spent our days driving my wife crazy with our noise-making, ball-playing, stuff-breaking, nerve-wracking ways. But I saw something that night that was outside of my experience in all my rambunctious, rassling, and rough-housing with the Miller men – the tender love and interaction of these fathers with their daughters. I went home that night and somewhat tentatively broached the topic with my wife. "There's something I'd like to chat about." "Okay," she said, "but let me make it clear. Our family is going to be either three boys and a girl or four boys. It's not going to be four boys and…" So, on April 30, 1993, I stood by as Jenni nearly squeezed my hand off – I'm not sure why this birth was so much more intense and painful for her, Bethany – and I watched as you were born. That day I started a new adventure – the Miller Men became a plus one. I was the  father of a daughter.
I will never forget what the doctor said to me that day. He looked at me and said, "First, she will steal your heart, then she will steal your wallet." On this day, the day of your wedding, I can tell you that your mother and I would affirm that both of these statements have come true.
Let's call your early years the pink years. The little blond girl in the girlie clothes playing with Barbies, which I swore my daughter would never do, and I'm guessing Bethany is now horrified that she actually did. There were the long months of "the feeling" and "the story." Bethany struggled for a long time to know for sure if she was ready to put her faith in Christ and if she had really made that commitment. Jenni was usually the bedtime evangelist in our home but she came to me because Bethany kept talking about having "the feeling" – doubts about whether she'd made her commitment yet or whether she was ready to trust Christ. So I would tell her "the story." It was the whole Bible in a 10 minute bedtime story – Creation, the fall, the law of God, sin, the birth of Christ, his sinless life, his death on the cross and his resurrection, his offer of eternal life to those who repent and believe and the fact that he would one day come again. Finally, with Jenni and I tag teaming her, she settled her commitment to Christ and gave her life to him.
I remember the third grade girl who won the two-mile race at the Cono Relays, beating all the girls up through eighth grade and almost beating the high school girls and for 5 or 6 years I thought she was going to be a world-class runner – till she quit and I'm guessing none of you have ever seen her run at all! You Cedarville folks thought she was allergic to exercise, didn't you? There was the angry girl who sat on the couch staring at me with intense hate because I told her we were leaving the only home she'd ever known, the only church she'd ever known, the only school she'd ever attended, to move to Sioux City. That was also around the blue jeans and baggy, black t-shirts years when she would recoil in horror if anything pink came near her! Then there were the Show Choir years – oh, I love you, Bethany, but I hated the Show Choir years. Of course, there were also the musical theater years when you brought the house down in your patented comedic roles. I really loved that poetry phase you went through. "I'm just a girl."
I guess I am glad I brought you to Ohio a few years ago, but it was only supposed to be for college, not for a lifetime. I took you to CFAW because I'd decided God wanted you to attend Liberty where I could have your brother spy on you and take care of you. He'd sat beside you at family meals and squeezed your hand during the prayers, so I figured if you were going to be away from home, he could look after you. But when I picked you up, you told me, "Dad, I had a great time but I know this is not the place God wants me to be. Liberty just isn't the place." I remembered then that Cedarville was only a few hours out of our way on the trip home and I suggested we stop by here. That Monday morning, we drove on campus, they showed us around, and you fell in love, you knew you'd found your new home. You really did fall in love a lot here. You fell in love with Cedarville, and with Printy, and there's something else, of course – I'll get to that in a second.
Leaving you here was one of the hardest things we have done. Today is not the first day we've shed tears over this. But we've also been proud of the young woman you've become. We watched you grow up from the girl whose room looked like the after picture of an F5 tornado to the responsible, talented, resourceful, all-too-independent woman you have become. It has been a privilege to watch you grow, grow in the Lord, and develop in every way, becoming what we had hoped you would be.
Of course, there was that day you started talking about that boy, some guy named Deric. Oh, yes, we heard a lot about you, Deric, a long time before we met you. You had this rule about not dating till you were 36 or a junior, or something, and it was driving my smitten daughter crazy. I guess a spring break trip to South Carolina got everything worked out and we are here today to make a solemn covenant before God.
Permit me to tell you what I told you when you came and spoke to me in the family room. Oh, I knew you'd be coming, but I wasn't quite sure what to say – I was a little scared Bethany would hurt me if I messed things up. I recall communicating two things to you. First, you are taking on quite a project here today. Bethany was the princess around our house. Matt and Josh and Ben know it. Some of it I couldn't help, she did have me wrapped around her little finger. But part of it was intentional as well – I was determined that any guy she gave her heart to would have to treat her like royalty. It's possible I did too good a job of that. We are proud of the daughter that I presented to you a few moments ago, we really are. But, and you know this already, she is a handful.
I believe that you are the man for her, Deric, a perfect match. You are strong, and level-headed, and patient and she needs that. We are so glad God sent you to our daughter and Evan, Kelly, we are grateful to God and to you that you raised a young man like this for the Lord and for our daughter. This is the kind of young man that a dad wants at the front of the church when he walks his daughter down the aisle.
But I want to make it perfectly clear and remind you of the other thing I said that day. "No give-backs." I do not accept returns. Okay? From this day forward and forevermore – she is yours. There is no return address on the gift I gave you today!
So, I have two roles today. I'm the Father of the Bride and I'm supposed to be the pastor, too. So far, I've been one and not the other. I need to take a moment and be the pastor now. I would like to attempt to speak a little spiritual reality to you today, and stop the muddled meanderings of a befuddled dad.
Here are the hard, cold facts – no joking, no sentimentality. What you are about to do is hard, one of the most difficult things anyone can do in life. Think about it. Neither of you is yet 23 years old and you are going to bind yourself together in a solemn oath that you will live together till death do you part. You have no idea what life is going to throw at you. Every one of us here wants nothing but good things for you, but life doesn't always work that way. Will it be good times and great things or will it be hard times like Job, or the Apostles, or so many others in the Scriptures? You don't know anything about your lives except that after a brief honeymoon you are going to Cincinnati, and yet you are going to vow before God and one another for better for worse, for richer for poorer, in sickness and in health, to love, honor and cherish till death do you part.
That is truly an unbreakable vow! It's hard and it lasts for the rest of your life, and I'm going to do the best I can to close every loophole!
Sometimes the world is not very supportive. And it's not just the "attacks on marriage" that we hear about in sermons and in the news. My heart was broken several years ago as a young lady who was expecting her first child told me sadly, "Pastor, being a wife and a mother is my highest aspiration in life, but you cannot believe the negative messages I have gotten from Christian people trying to discourage me about it." It is sad that this institution, created by God to prevent loneliness, to provide companionship, give a man and woman a joy, pleasure, hope, and happiness, has become the source of so much scorn even within the Body of Christ.
A moment ago, your father read the passage in Genesis that spoke of the founding of the family. Marriage is a holy and sacred creation of God, designed as a blessing for a man and a woman – not only for the raising of families, but for companionship, pleasure, joy, and the most intimate, abiding bond that two human beings can share. Unfortunately, like everything else in this world, our sin marred the beauty of marriage and turned it into what it often is today. We brought the darkness and we need not debate whether darkness reigns on this earth.
But I would speak today to the solution. You two are church kids – you know all the scriptures, all the formulas, all the truths. And they are true! Do them. But today I want to speak a word both as a pastor and even more as a father.
You get married in a world of darkness, a world of sin. There is only one solution for darkness and that is light. Both of you know the light, the Lord Jesus Christ. Jesus, who entered the darkness and overcame it by his death and resurrection. Let him shine in you. The most important thing you can do day by day is just shine Jesus wherever you go. In your marriage, shine Jesus. As you raise your children – oh, and for the love of all that is holy, have children, have many children – shine Jesus through them. In your neighborhood, shine Jesus. At work, shine Jesus. In needy places, shine Jesus. Deric, Bethany – don't be satisfied with anything less that walking together into this darkened world and shining the light of the Jesus who redeemed you by the blood he shed on the cross.
Bethany, one more story then I'll wrap this up and get you hitched. You have admitted that you were not exactly a spiritual giant in your high school days, but do you remember the event that changed your life? It was a mission trip to Taiwan we took in 2010, just before your senior year of high school. You came back and suddenly you were talking about being a missionary, living your life on the mission field. That reflected the fact that your heart had changed and you now wanted to invest yourself in serving the kingdom of God. Do you realize what changed in your life and in the lives of others because of that commitment?
I'm going to stand here today and hold you to that promise. I've never done anything more than drive through Cincinnati, but I know it's a mission field. Be missionaries there. Shine Jesus in that dark, sinful place. Wherever you go and whatever you do, shine Jesus. Shine the light. Be the missionaries God called you to be. If God sends you far away, we will bless you with broken hearts, but shine Jesus.
It will never be easy to shine in the darkness, but when you shine Jesus, the presence of God will be with you, watch over you and be there every day.
Here is my blessing and my admonition to you as you prepare to take vows before God. Shine the light of Jesus Christ in this world. As you covenant together in marriage, include Jesus Christ as the heart and soul of all you do. Shine Jesus. I speak today on behalf of myself as your father, and on behalf of your mother. I believe I speak on behalf of your parents as well, Deric. But I also stand here as a representative of the Almighty God of heaven and I know that I say, as you join together in marriage, make it a holy marriage. Shine Jesus. Wherever you go and whatever you do, my daughter and my new son, shine Jesus. Shine Jesus. Shine Jesus.